About Preschool Prodigies
Preschool Prodigies is a fun, colorful and accesible program for teaching children music.
Whether you're a parent looking for something fun and educational to do with your kids, or a teacher with a class full of students, Preschool Prodigies will have you singing, playing and hand-signing your way to a music education in no-time!
Preschool Prodigies combines a color coded instrument with animated video lessons to give families and classrooms a no-brainer method for singing in tune, understanding rhythms, and learning how to play an instrument.
Each video lesson is accompanied by colorful sheet music and follow up activities so that you can work on the concepts at your own pace, reinforce preschool skills like handwriting, sequencing and patterning, and get some screen-free musical play!
If you've ever wanted to channel your child's musical play and give them the cognitive benefits of an early music education, then Preschool Prodigies might just be your new favorite website!
Even with a few minutes a day and zero prior musical knowledge, you can start your child's musical journey today!
On our blog, we post articles, giveaways and sheet music that make playing music accessible, colorful and fun, while our curriculum lives inside the Preschool Prodigies Playground.
The Playground is a step-by-step digital curriculum of videos and printables worksheets to give children a lovable, powerful and affordable music education.
Our program is delivered online so that no matter where you are or how much time you have, you can provide your child with a fun and interactive way to get a music education!
Check out the first lesson below! Happy musicing!
Lesson #1 from the Preschool Prodigies Playground
Music Lessons Redesigned
Our music lessons have been developed and tested with hundreds of preschool children to maximize their effectiveness.
Modern Video Solution
Short format video lessons designed specifically for a young child's short attention span and love of re-watching.
Delivered Digitally
By delivering the lessons digitally, you save money on printing and shipping costs.
Everyone's a Star
Children will always feel accomplished and confident about their musical skills with Preschool Prodigies.
Rob Young
Creator and Producer
Rob is host and creator of Prodigies. His day-to-day is spent making most of the videos, music, animations, artwork, blog posts and web content for Prodigies.
Rob is a drummer at heart, a life-long learner, an avid consumer of fiction, and at his core, a really big nerd. He studied Music Technology at NYU and after graduating, moved to Delaware to teach preschool by day and play music by night.
He's been an assistant teacher and a lead teacher in Pre-K, Kindergarten and School-Age settings. He's taught music at S Music Studio, Gymobree, MusIQ Club, the Boys and Girls Clubs, Little Elk Creek Music Studio and at his home studio, Young Music Studio.
He's run his own brand of music classes at St. Michaels, at Brandywine Valley Christian Preschool, and at the Early Learning Center, and Rob is one-half of the popular duo Nature Jams, which performs educational concerts about wellness.
These days, Rob lives with his wife Sam (as seen below) on Maui, and they spend most of their time developing PsP or taking enjoying the aloha spirit.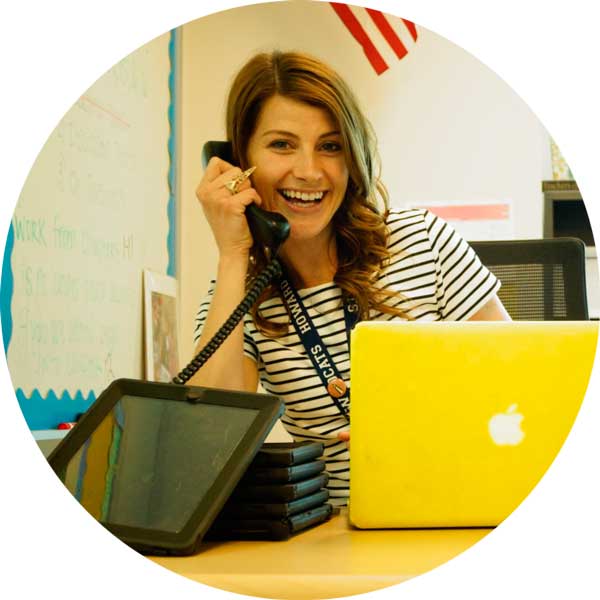 Samantha Young
Operator & Curriculum Director
Sam creates most of the workbook content for the Prodigies Playground and these days, plays point woman on customer success, e-mails, and operations.
Before Prodigies, Sam taught high school English for six years, where she took the lead on many curriculum development projects and school-wide initiatives.  Now she brings that insight to the preschool & primary level to create fun and challenging materials for young musicians.
Sam studied education at the University of Delaware culminating in a bachelor's degree in English Education and Master's degree in Educational Technology. Both help her lay the framework for the Playground Workbooks and Songbooks.
When she's not situating bells in color-by-number scenarios or putting out shipping fires, she enjoys playing with baby Lil, singing and strumming her guitar, practicing yoga, reading fantasy & science fiction,  and adventuring around Maui where she lives with her husband, (Mr.) Rob!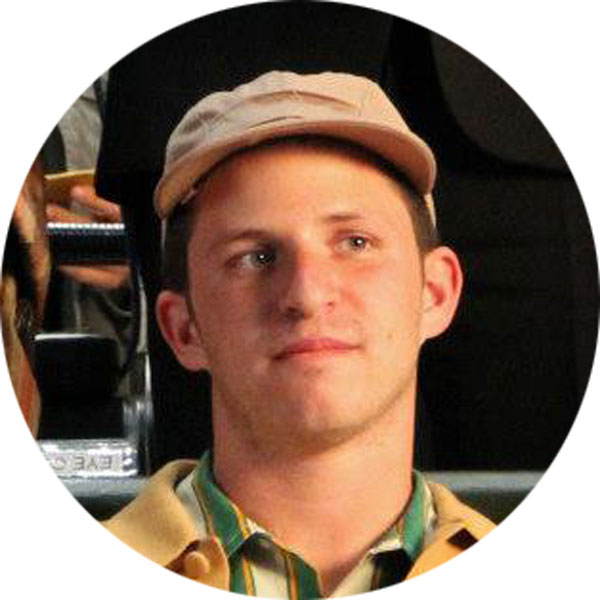 Jeff Sedwick
Video Producer, Animator
Jeff works in the NYC film industry and has been a part of Prodigies since day one. Jeff's keen eye has helped fine tune the production process at Prodigies and even when he's busy with films and shows in NY, he continues to grace the team with his presence for intensive filming and editing sessions.
Even though Jeff doesn't believe in shoe laces, Jeff keeps track of the day-to-day website analytics, especially when it comes SEO, social media marketing and advertising.
Jeff is currently based in NYC, though the team is trying to convince him to come to Maui to help film and edit Level 2 content this winter! Shoot him an e-mail at Jeff@PreschoolProdigies.com and tell him it's a good idea!
Zafer Türkkan
Franchise Director
Zafer has worked with education programs all over the world and understands the complexities and importance of bringing countries together through education. As a musician and father himself, he is passionate about sharing music with children everywhere.
He lives in Turkey with his wife and two sons, where he studied Education, Business and Brand Management at Ataturk University. This training has allowed him to help establish hundreds of learning centers around the world, prior to his involvement at PsP. His goal is to help spread PsP worldwide and share the gift of music with as many children and teachers as possible.
Aaron Poole
Songwriter, Musician, Editor and Prodigies Ambassador Coach
Aaron and Rob have been long-time musical buddies with a great history of writing and working together. Aaron is a quick witted musician whose ability to read, write, and easily transpose sheet music has been a a big help to the PsP team.
Aaron also brings copywriting, contract, and sales experience to the diverse world of online curriculum development and currently coaches our Prodigies Ambassadors. Look forward to hearing a lot of fun new content from Aaron in Level 2 (School-Age Prodigies coming 2018) and if you have any song ideas or questions about the Prodigies Ambassador program feel free to let him know at Aaron@PreschoolProdigies.com.
Michael Lining
Music Producer, Customer Support, M. Mus in Church Music & Instrumental Performance, B.S. in Music Education
Michael is an accomplished musician, talented producer and, thankfully for all of our families, teachers and members, an outstanding curriculum support technician.
Michael and his son Boo started making waves with Boo's amazing singing voice and his sense of perfect pitch. Within a couple of months, Michael, his wife Mandy, and Boo met up with Rob in Asheville, NC, and within a couple of weeks, Michael was writing and producing music for Holiday Prodigies, Recorder Prodigies and beyond.
His work as a curriculum support technician for Bob Jones University, combined with his musical background and production abilites means that he is on the front lines of customer support by day, and that by night, he produces the soundtrack to your child's musical journey!
Mandy Lining
Blog Admin & Writer, Content Curator, Homeschool Specialist, B.S. Early Childhood Education
Mandy joined the Prodigies team in January 2018 to bring her experience in Early Childhood Education and Administration to the Prodigies Blog. She is a homeschooling mom to one amazing little prodigy Boo, and also a musician herself! Her insights, content curation and writings on the Prodigies Blog helps parents find additional resources, ideas and strategies for making the most out of their child's musical development.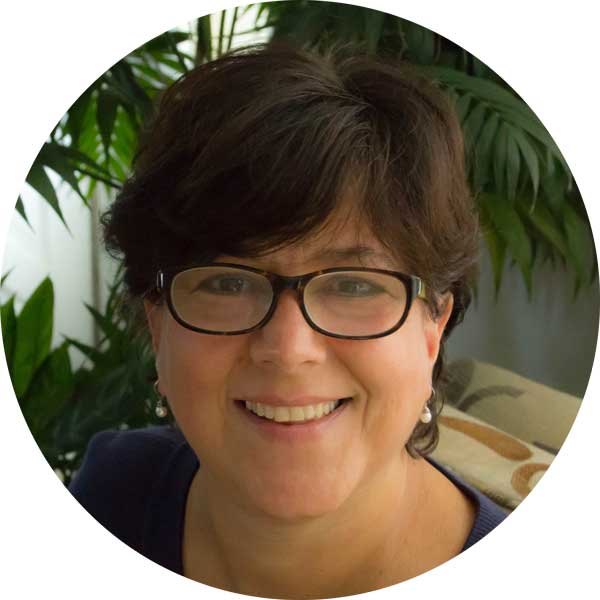 Susan Varsames
Special Education Consultant
Susan provides input for differentiating Prodigies content. As the founder of the Holistic Learning Center in White Plains, New York, she understands childhood and special needs curriculum at the highest level.
She studied Educational Psychology & Special Education and Early Childhood Special Education at New York University. When she's not swimming in the ocean at her home in Maui, she's working as a Reiki master and craniosacral therapist, which helps keeps the Prodigies team centered.
Testimonials from the Preschool Prodigies Playground
"When I perused [the curriculum] I was completely blown away. The whole thing integrates so well with each other – the videos with the books, and the entire scope and sequence. This is a very carefully laid out, complete curriculum. Step one, step two, no guesswork on what to do, when to progress, etc.
The books are really cute too! The pacing and skills taught are perfect for preschoolers, but I would not hesitate to recommend it for older children too."
– Tamsyn Spackman, Teaching-Children-Music.com
Music inspires joy and creativity, and it's important to give children the skills and confidence to create music at an early age. That's why Celebrity Baby Trends has teamed up with Preschool Prodigies to bring five families this fun and educational [music lessons].
Your child will love beginning their musical journey in just minutes a day with this revolutionary program.
– 

Celebrity Baby Trends
"I was worried my kids might take after my husband as far as musical talent is concerned (his talents lie elsewhere), until we started following PsP.  Our kids have been doing a leading international music programme designed for babies and small children since they were about 6 months old. To my disappointment, they never seemed particularly enthusiastic about music and my daughter, especially, never liked to sing.
Now, my kids are both eagerly singing and playing along with Mr Rob's videos – often in tune, too.  They give 'concerts' to anyone who happens to be around after a music lesson to show off what they have learned (cue their long-suffering daddy).  I love how your program made our house come alive with music!  Thank you so much!"
– Marina, South Africa
Everyday Boo has music lessons w/ his bells! This is called Preschool Prodigies. It teaches solfege, simple songs, chords, and all sorts of other musical things. He hits his little bells and sings part of the songs.
He can already sing on pitch and knows several of the solfege names and their pitches. He doesn't hit the right bell just yet in accordance with the correct pitch, but we are working on that. Children are never too young to learn music and sing on pitch. Just because he is two doesn't mean he has to do "cute, off pitch" singing. Teach them early! Boo spends about 30 mins doing this…not because I make him but because he wants to. He gets so excited when I get his bells out!
– Michael Mandy Lining
"First of all, this curriculum is really effective. So far my classes are more fun, more satisfying, and getting every child to be engaged. So far, the students are singing very close to pitch and using fairly good singing voices. Also, the videos are very helpful to me as a teacher because I can spend more time watching the students for accuracy instead of the normal routine."
– Nick (K-12 Music Teacher)
""I have a 9 year old and a 4 month old… and they both LOVE the program on two very different levels! My four-month-old enjoys the overall music, rhythms and beats…and mirrors us with as much coordination as she can muster.
Her favorite is when I pull out the drums!!! She just goes to town!!! My 9 year old enjoys participating as is and if it happens to be a little too easy for him, he will just pick up his recorder and play along with that! Such a great program!! Thank you!"
– Krissy Fulton, Mother of 2
Hi Rob, just want to say that we are really enjoying the curriculum! My daughter was amazed that she was able to write her own music!
– Rena Alexandra
As a mother, I love watching my young children grow a passion for music. This past spring I started my two oldest children, who were 7, in piano lessons. I also wanted to start my 4 year old as well, but the level of discipline and understanding to comprehend the keys and notes on a piano were above her capabilities at the time.
Now, thanks to Preschool Prodigies, she is able to learn note and key recognition, giving her the ability to grow a passion for music and understand music theory before many music teachers will even accept her as a student.
Preschool Prodigies has created this program specifically for preschool age children, but based on my experience, my older children love it as much if not more than my younger ones. This makes it a great addition to any household.
Within ten minutes of reading through the workbook lessons and interacting on the website, my daughter was able to play multiple songs on the bells. I was impressed with her ability to read and play a song so quickly using the curriculum provided, including the Playground Access
– Reviews By Lila, ILoveMyKidsBlog.net
Wow! What a well put together package. BrillKids Little Musician was a tough act to follow, but Preschool Prodigies really offered everything I was looking for. The sheet music is very child friendly. I can see kids who use this program being able to easily slip into sight-reading regular music when the time comes.
It is completely possible to teach a group of preschoolers using this programs. You can also us this program with your toddler or preschooler and learn more than one instrument.
 – Monique Lise, EarlyLearningMom.com
How to get a sleeping three year old out of the car in 1.5 seconds, "Your bells have arrived!" I'm not sure if her or my wife was more excited! Just wanted to say how much we appreciate all your help getting this sorted out! She's been playing for about 2 hours so far, finally got the lessons up in the tv for her.
– Shane Whitehead
"If you believe in the power of music then this podcast is a must download. My kids can't get enough of Mr. Rob. The program is fun and entertaining and simultaneously does a great job of developing music skills."
– Chris Kelly
"In just 3 days she's learned Twinkle Twinkle, Mary had a Little Lamb, Hot Cross Buns and she taught herself the chorus from Jingle Bells by herself using all her fingers. Tonight she has learned to identify and play C, F and G chords to Don't Worry Be Happy. I can't get her off her keyboard!"
– Jarrod Graham
"Sweet Beet Rocks! My 3 year old loves this program! She is totally obsessed with Sweet Beets"
– Katie Stevens
"Fun for my 4 year old! My daughter loves music and she loves these podcasts. She sings along, gets out her drums and beats along. Mr. Rob is fun, energetic, and engaging. Thank you!"
– Freja's Mom
Enter the Prodigies Playground
Continue your musical journey inside the

 Prodigies Playground!
This Starter Program is a very small piece of the puzzle…there are over 125 music lessons inside the Playground!!
Discover a world of musical learning inside the Prodigies Playground!!